---
EMWA Conference – Poland 2018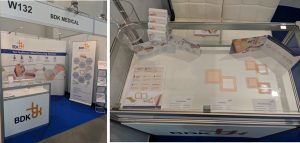 In May last month, BDK exhibited at the 28th European Wound Management Association (EWMA) Conference in Poland.
By bringing together up to 4000 participants and exhibiting 160 companies, the EWMA was the ideal platform to gain knowledge and exchange experiences with some of the best experts in the international field. With scientific presentations and interactive activities, this conference provided every visitor a significant networking opportunity.
The activities that were provided were organised with a range of different national or international organisations where they could share and implement their expertise within wound management. The information that the researchers and clinicians offered to businesses, aided and helped companies keep their wound healing and wound management up-to-date.
EWMA is one of the largest international wound conferences; we found it was one of the best ways to boost awareness about our market leading capabilities to the global stage. Our team met with lots of new prospective and existing customers, with numerous new projects launched across various sectors which will further support continued sales growth and bolster BDK's market position as the 'go-to' healthcare manufacturing partner.
At BDK, we were really pleased to have this opportunity to be part of the EWMA conference, and we are already looking forward to next years in Sweden! To find out more about our capabilities and what we do, have a look round our website or contact us today.